I love this games and I would like to share some ideas for the forthcoming V2.
The new artwork of the Shermans show the engine deck of a Sherman M4A2 (Sherman III for the brits). See following pic: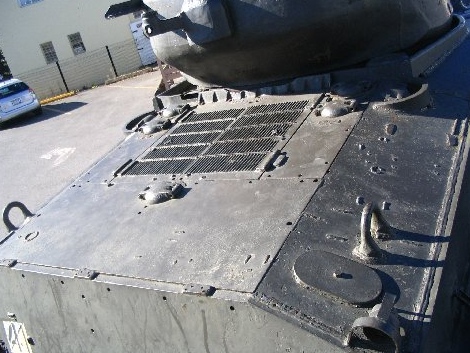 The M4A2 was never used by the US Army, only by the Marines and the British. The old artwork show the correct engine deck of a Sherman M4 which together with the M4A1 (same engine deck) was used initially in Normandy until the M4A3 start to replace older models. Also it shows a loader's hatch in the turret roof which is not accurate for any of the models cited except for a M4A3.
In summary old artwork is accurate, new one not.
A note on the Shermans, they had stabilizers for the main gun, not very developed ones but they had it, therefore they could be the candidates to have the rule fire on the move on the main gun instead the British Cromwell tank which had no stabilizers.
For the Germans, I have seen no pictures of a Panzer IV with sandbags in the front armor. If you want to have decoration in the Panzer IV would be better to put some camo foliage instead the sandbags.
The German halftracks artwork are the older C model instead the more common D model at the time of Normandy. Also it is doubtful they Germans will display big recognition flags on top of the vehicles given the air superiority of the allies.
For the infantry squads:
Americans 12 men: Artwork ok to have such number (5 men fire team, 4 men support team, 3 men recon team).
British 10 men: Artwork not ok, two men two much (5 men leader team, 5 men fire team , two men Bren team) Possible solution: artwork of 4 mean each for the leader and the fire team.
Germans: The units depicted in the core box are panzergrenadiers so they should have two MG 42 per squad. Ideally we should have for this two tiles of infantry with 4 men each with each tile the stats of the SS MG Group from the 1st SS panzer expansion.

For common infantry, a squad of 8 men and 1 MG42 could be represented with two tiles of fire team on the reduced side (three mean each) and the existing MG 42 team, so no need to change here.
I love the game and I know this is the game based on the movie of WW2, but I think many of us who love HON will like these small touches of accuracy which mainly are visual, do not change the game-play or the rules and will keep us nerds happy.